Informing agricultural practices through automated scanning
The Unmanned Aerial Vehicle (UAV) Engineering Service Learning team is working with the Merced County Cooperative Extension (MCCE) to design solutions for the agricultural community in Merced County. Currently, they are designing a technology that will scan and detect a disease found in grapes called Pierce's Disease.  By combining image stitching and spectral analysis of diseased plants, they are  working to identify prospective problems in the grapes before the disease spreads to other vines. 
Project Status
Currently, the team successfully accomplished autonomous flight and are able to stitch images together like a puzzle. Their next steps include processing the stitched image to identify where the disease is located and to field test the project in the Fall 2017 semester.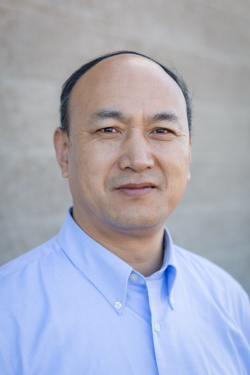 Interests:
Mechatronics
Control systems
Unmanned aircraft systems
Cyber-physical systems
Applied fractional calculus

Community Partner:
Across California, the University of California's 64 Cooperative Extension offices is local problem-solving centers. We are the bridge between local issues and the power of UC research. Our county-based staff is part of the community – we live and work in the areas we serve.
Team Biographies