It's a situation familiar to many UC Merced students: Having to translate for parents and other, older relatives who speak little or no English.
It can be especially challenging when what you have to translate is almost a language in itself — medical jargon.
Senior Ezer Angeles said it's why he's so excited about the Engineering Service Learning team he's on. Team Project Protect, mentored by Professor Miriam Barlow and sponsored by Healthy House, is developing a mobile app that translates and correctly pronounces medical words to assist younger people in helping their elders communicate better with health-care providers.
"Working on this project helped me see it wasn't just me," Angeles said. "There are thousands and thousands of us."
People got the chance to see a demonstration of the Project Protect app — which is available for free downloads now on Google Play and the Apple store — at this fall's Innovate to Grow event held last month.
Equal parts competition and exhibition, Innovate to Grow highlights student efforts in engineering, design, entrepreneurship and education, and awards those teams whose accomplishments are especially noteworthy.
Innovate to Grow was launched in 2012 as an expo to spotlight the achievements of graduating seniors who had completed the School of Engineering's capstone requirement. The bi-annual event has expanded to include the Innovation Design Clinic, the Mobile App Challenge, sponsored by the Center of Information Technology Research in the Interest of Society ( CITRIS) and the Engineering Service Learning initiative.
A dozen or more teams partner with community organizations, businesses and agencies to engineer solutions to specific, real challenges the teams will work on over several semesters. Healthy House is a multi-ethnic community that promotes the well-being and health of people in the community through education, services and advocacy founded in respect for language, culture and health equity. In 2015, the group approached Engineering Service Learning with a problem: How to help people navigate medical appointments when they don't speak the same languages as the providers.
The team came up with the Healthy Host app.
"The students really designed this," Barlow said. "Half the students in the class are translators for older relatives."
Barlow's lab launched Project Protect several years ago as a multi-armed way to educate the public about antibiotics resistance. The Engineering Service Learning team is just one of the ways her lab helps inform people, in addition to publishing research results, blogs and social media.
An immunologist, she sees the rapid evolution of bacteria and is working on testing a way to reversing that evolution and make antibiotics more effective again.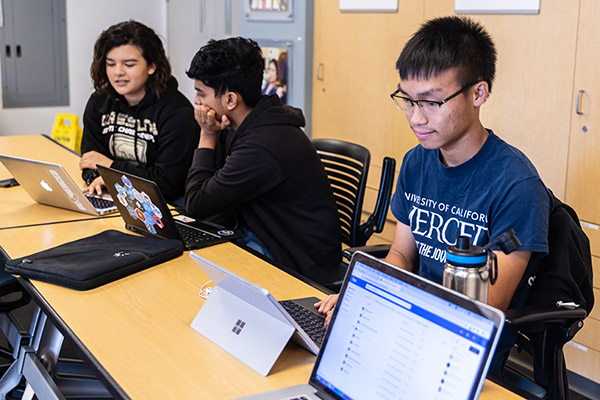 Healthy Host has English medical and dental information translated into Spanish and Hmong, based on medical issues most commonly seen in the San Joaquin Valley. It has audio that reads out loud whatever is on the screen, Angeles said, demonstrating how to pronounce complex medical words in all three languages.
"It is helpful for clients who don't know what to ask their doctors when they go to appointments," said Nai Saechao, executive assistant at Healthy House. "It's also helpful for clients who do not read their own language because the app reads the information to them."
That's especially important in Hmong, which doesn't really have a written language, Barlow said.
Angeles, a native of the Palo Alto area, leads Project Protect's 14-member team. He said he and his teammates have been working to add audio files and would like to add many other languages for people to choose from.
The app also has a notifications feature, so patients can set up reminders to take medications or about appointments. The app is still being developed, but Angeles expects to graduate in May, so he likely won't be at UC Merced to see the final product.
"We really want to eliminate any language barrier that prevents people from getting well," he said.
Lorena Anderson
Senior Writer and Public Information Representative

Office: (209) 228-4406

Mobile: (209) 201-6255