This series of interviews with industry professionals, professors, and other faculty serves to bring light to the inspiring coming-to stories that our school inhabits. We hope that these stories bring hope and encourage students of all majors, backgrounds, and walks of life.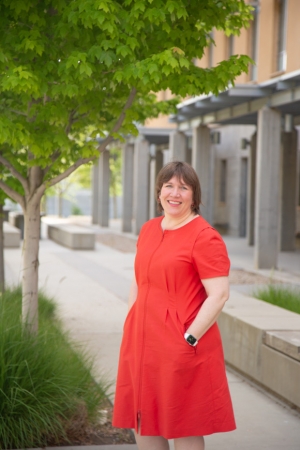 Our third interview is with Miriam Barlow, an Associate Professor of Biology at UC Merced. Professor Barlow is a faculty advisor of Engineering Service Learning in Project Protect.
It's okay to go down a random path. It's where I was meant to be, and they end up being some of the most amazing roads to take.
Tell me a little bit about yourself.
I've been a professor at UC Merced since 2005 as a founding faculty member. I study antibiotic resistance and became interested in that field during my undergraduate studies.
At the time, I thought I was going to be going to medical school and even took the MCAT. When I sat down to apply for medical schools, I realized that I didn't want to be a doctor. I decided to go to graduate school for evolutionary biology.
I took a year off school and worked as a lab tech in a neuroscience lab to gain experience for graduate school. I got into an amazing program and was able to work with a professor who worked in evolutionary biology. In that lab, I fell in love with learning about antibiotic resistance.
What inspired you to become a professor?
That was the random path I went down. I was planning on doing research in evolutionary biology and I planned to apply for jobs in the industry and academia just to see what came out of it. I was thinking about going into the industry, but the job market fell right when I was going in. That's when I decided to go full force in academia.
There were many big-name schools that were offering me positions. I found this small school, UC Merced, that was opening. I came out to the city and I could feel the heart of what was going to happen.
My grandmother and mother were founding teachers at private schools, so I was able to attend those growing up. These schools weren't for rich people though—they were humble with great curriculums. Seeing what that is like first-hand, I realized the importance of giving high quality education to people in humble circumstances. I became aware of UC Merced's mission and I believed that the Central Valley needed education like this.
Throughout the years, there has been this energy at UC Merced that makes this university special. There are special students at this place. That's what keeps me in academia, and at UC Merced.
I have thought about leaving academia completely in the past, but the incredible, passionate students change my mind every time. I hear from other institutions how impressed they are with UC Merced students for their intelligence and work ethic.
Being a professor for these students is such a wonderful job and I'm so excited to be back in the classroom.
What is the most inspiring part about being a professor?
The most inspiring part is when I can see students' intellectual skills develop over the course of a single semester. In all my classes, I place a strong emphasis on asking questions. In teaching third and fourth years, I really want them to go into the real-world asking questions because that's the most important thing you can do. Learning how to formulate questions to get answers is how you have a voice in society. I really want them to understand that by the time they leave my class.
I've gotten better at figuring out how to prompt questions, but some students are still shy at the beginning of the course. But by the end of every course, many students are asking really great questions.
Sometimes, we go out at the end of the semester to the vernal pool reserve outside campus. Chris talks to the students and he always notices that my students ask the most, and the best, questions. Those are the moments when I am just so proud and feel so accomplished of our students. They learn how to think about a system, ask questions about it, and experience their voices being heard. It makes me so proud to know that they're going into the world with that under their belt. 
What do you do as a faculty member of Engineering Service Learning?
There are so many good students in Engineering Service Learning. They are so advanced, and some are the best students at UC Merced.
Engineering Service Learning is pretty intense for a one credit course. Right now, they're working on how to aid elders in isolated and financially insecure situations in the community. I'll ask my students to critically think about survey questions they're working on to ask their clients. I've been working with them to develop appropriate and sensitive questions to ask the elders. Sometimes, I'm just a sounding board for them to bounce their ideas from.
Chris Butler does a great job of giving students leadership opportunities, so sometimes I feel like my real job as a faculty advisor is to go easier on the students from time to time.
As a Biology professor, is there any miscommunication between yourself and your engineering students?
In the beginning, I went in with my own ideas. Chris Butler, the director of Engineering Service Learning, told me that I was thinking like a scientist and not like an engineer.
There really is a difference in thinking about engineering that is unfamiliar to me. In engineering, you have to take all these big ideas and scientific findings and turn them into something that's useful for society. I've been learning from our students and it's so cool to learn how to translate this science into my own language.
Being apart Engineering Service Learning has helped me understand that logic better.
What are a few of the major successes that you had on your academic or career path until now?
Oh, there are some fun ones. One of my students Candace Cole, a graduate student at UCLA, was doing this amazing work with antibiotic resistance. We collaborated with many mathematicians out at UC Berkeley and represented UC Merced. This was the first paper in which we investigated quantitative ways of bringing back off-patent antibiotics and making them useful again. We ended up publishing it, and it was such a crazy way of combining algebraic geometry and evolutionary biology.
Fast forward a bit, and the paper is being covered by the Scientific American and Huffington Post.
The best part though, is that when I go to conferences and no one knows I'm there, there are people talking about our paper. There was one person who said it came from UC Irvine, and from the crowd I told him that it was from UC Merced and that it was a student who worked on it.
It blew my mind that cancer scientists had gotten a hold of this paper. It always excites me when scientists get a hold of one another's' papers.
What was your favorite part about working on your career path?
The cheeky answer is that I really like having a flexible schedule and being able to take time off in the summers.
But also, there's the part where I'm trying to save the world from antibiotic resistance. I feel like I'm making real progress with that. That's my actual favorite part, but there are some sweet job perks.
For example, pre-COVID times I was able to travel to conferences. This year I would be going to New Zealand if it wasn't for the pandemic, and the year after that I would be going to Italy. Before the pandemic started, I was able to take my grad students to England, Spain, and even Mexico. I love the travel the job provides, and I love being able to take my students with me. It expands their horizons and exposes them to new cultures.
What do you think is the most important thing for students to focus on while at UC Merced?
For undergrads, I think that the most important thing to focus on is just learning as much as possible without becoming overwhelmed. Once you're accepted into med school or grad school, the grades are hardly even going to matter. What you learn, though, stays with you forever. Grades are important, but don't be so obsessed with getting "perfect" grades and missing out on the learning opportunities along the way.
Our school is one of the best for social and economic mobility and our students can become community leaders, to make a difference in academia, and to bring a diverse perspective to the Central Valley. I want our students to understand that their voices can and need to be heard. Whatever challenges they face, our students have the potential to change the world.
I really want our students to understand that they can do anything in their studies if they gain confidence. They need to be able to be the only woman or POC person speaking in a room.
I am so proud of our students and the work they are doing. Our students will go out into the world and make a difference.  
If you could give yourself advice while you were on your academic or career path, what would you say?
If I could go back, I would tell myself to not be so hard on myself. I was looking back through my transcripts recently and I did not think that I was that good of a student. My last semester I was at a 3.3 GPA, and I was so disappointed in myself back then. I was signed up for 31 credits my last quarter of college and was so tired. All I saw were my "failures;" that I didn't do well on a test, or that I didn't make the Dean's List, or that I wasn't graduating Cum Laude. I couldn't see my own success.
In college, it's so easy to see the things you're not doing and the goals you're not reaching. But there's so much more than that. I wish every student could see that in themselves. Give yourself a break occasionally. Getting that degree is a major accomplishment. Don't let that be sour because it didn't come with the honors you wanted.
Thank you so much for that. That is a wonderful response. Do you have any other comments you wanted to say?
I am so excited to see my students in the fall. I really hope they're doing okay through everything going on. If they are reading this, I send them so much love from myself and from the faculty. We miss all of you so much.