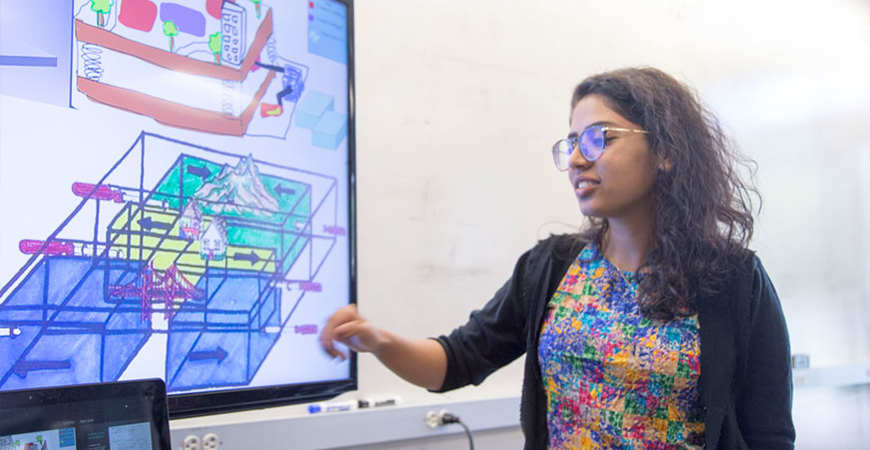 34.3% of sixth-grade students in Merced County scored below proficient in science on California standardized tests in 2016. To address this educational challenge, Engineering Service Learning students at the University of California, Merced have been working closely with Chenoweth Elementary School to design a plate tectonics lab that will help 6th-grade students achieve proficiency in the sciences. 
"This is a way that we can help students in the area be better prepared for college," said Veronica Acevedo, a first-year student in Mechanical Engineering. "By teaching the children about the different movements of tectonic plates, test scores of these sixth graders will go up." The Get S.E.T. (Science, Engineering, and Technology) team is designing a Plate Tectonics lab that will take the form of a simulation of three different types of plate tectonic boundaries, Convergent, Divergent and Transform.
"I love being part of this project because it is cool to design a project that will be used in a real classroom and sixth graders will actually use it!" exclaims Jarred O'Connor, a first-year Computer Science and Engineering student at UC Merced.  Through the Engineering Service Learning course at UC Merced, students work on real-world projects that target their non-profit client's needs, in this case increasing test scores through interactive science labs. 
The team has been designing and printing 3D models to be used in the simulation for the past year and using these models as prototypes to refine the features of the simulation.  In addition to creating models with durable materials, the team is testing the appearance of the prototype to guarantee that young students remain engaged, and the subject matter is clearly taught.
Once the plate tectonics lab has been completed, the plans for the models as well as an accompanying lesson plan will be available for all teachers anywhere to access.  The Get S.E.T. Engineering Service Learning team is working with teachers at Chenoweth elementary school to refine the project and ensure that it compliments what is already being taught in the classroom. 
"This project has been going on for a few semesters," says Sebastian Carrillo-Maldonado. "Each semester's team passes their work to the next semester's team so improvements are consistently made.  Each semester the team is able to work the subcomponents of the project to ensure that the project will meet the needs of the client and end-users."  Engineering Service Learning students have been working on this real-world long-term project that is tailored to the needs of the students and teachers.
Additional information on the Get S.E.T. team and Chenoweth Elementary School can be found at https://engineeringservicelearning.ucmerced.edu/team-get-set and http://www.mcsd.k12.ca.us/Chenoweth/.